SIR JOHN DANKWORTH, CBE
BIG BAND - 1960
John Dankworth (altosax), Peter King (altosax), Art Ellefson (tenorsax), Danny Moss (tenorsax), George Tyndale (baritonesax), Gervaise de Peyer (clarinet), Dickie Hawdon (trumpet), Kenny Wheeler (trumpet), Derrick Abbot (trumpet), Gus Galbraith (trumpet), Jimmy Deuchar (trumpet), Denis Wilson (horn), Tony Russell (trombone), Ian McDougall (trombone), Eddie Harvey (trombone), Ronnie Snyder (tuba), Ray Dempsey (guitar), Dudley Moore (piano), Michael Jefferies (harp), Spike Heatley (bass), Kenny Clare (drums), Bobby Breen (bongos)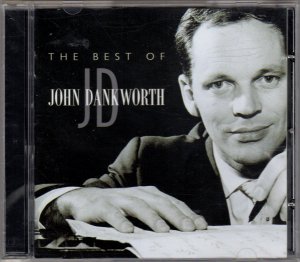 John Dankworth is a peerless figure in British music. As an instrumentalist, composer, bandleader and activist he has a track record unrivalled in its breadth and level of achievement. A master jazz saxophonist; an adept and witty arranger for big bands; a shrewd, accomplished composer of film and
TV music; and a proselytizer for and champion of modern British music in
all its various guises. It is difficult to pin down a genuine "Best Of Dankworth", since he has been so prolific and successful in so many areas. But this disc tries to bring together some of his best-known and most
characteristic themes, arrangements and individual compositions.

The young alto saxophonist who formed the Johnny Dankworth Seven in 1950 was already a seasoned pro and a key figure in the British bebop scene of the late Forties. Gifted with a light, attractive tone and a Parkerish fluency modelled more on Anglo-Saxon diffidence than American grit, John was a
striking instrumental voice already. The Seven was succeeded by a 17-piece
orchestra which called for a terrific amount of work from the leader, which he proved more than capable of handling. One of his cleverest scores for the group can be heard on the first track here, which sold over 100,000 copies on its release as a single in 1956 — "Experiments With Mice", a very familiar tale (and tune) retold from a jazzman's point of view. More than 40 years
later, it still raises a smile. Keeping a big band together can be a chastening experience on many levels — not least financial — but the Dankworth Orchestra lasted as a regular unit until 1964. The Orchestra made a significant debut at the American Newport Jazz Festival in 1959, their appearance captured for posterity on an album called London To Newport
(or, in its American incarnation, Bundle From Britain, and itself overdue for CD release), which proved what a fine outfit it was. The Orchestra should have made more records than it did in its prime, but we have included a couple of tracks from a late masterpiece by the group, which also featured several special guests — What The Dickens!, an album of tracks in dedication to "the only author I've ever really read", according to a self-deprecating comment by John in the original sleevenote. "Dodson And Fogg" is a
gripping encounter between the Dankworth alto and the tenor saxophone of another British jazz legend, the late Tubby Hayes; while "Dotheboys Hall" features an astonishing line-up of sax soloists in Ronnie Scott, Bobby Wellins, Tony Coe, Dick Morrissey and Peter King. "Gemini" is an episode from another large-scale work for the orchestra, Zodiac Variations, which also featured some American guests, including the great tenor saxophonist Lucky Thompson.


By this time, though, arranging and playing in a jazz setting was not Dankworth's only forte. He had become an accomplished and in-demand composer for film and television. Much of this collection is centred around
that aspect of his work, never before collected in one place but full of melodies which will be instantly remembered by many who might not even be aware of John's jazz work. Few, for instance, realize that he was the composer of the original themes for both Danger Man (in its first, half-hour
format) and The Avengers (the Honor Blackman season). The theme from
the BBC series Tomorrow's World is a classic of its day; but so is the music from such keynote films of the 60s as Darling, Morgan and The Servant. Indeed, there is a case for John Dankworth as a composer of equal eminence to such a high-profile name as John Barry. The difference was, he chose not to go to Hollywood, and he remains a passionate advocate of performing as
a working musician himself. Later pieces included here, such as "Little Girl In
Blue", "Sambalaya" and "Scruggs", show how his mastery deepened and grew more intriguing as his arranger's mind continued to develop. That has never stopped him from creating naggingly memorable arrangements which are catchy enough to grant him a crossover success: one of the most famous is surely his infectious treatment of "African Waltz", which spent no less than 21 weeks in the Top Fifty in the spring of 1961. John also had deep ties to his home and with the idea of doing something for British music as a whole. When he and Cleo bought the Old Rectory at Wavendon in Buckinghamshire in 1968, they turned the former stables into
a concert hall and developed what became known as "WAP" — the Wavendon Allmusic Plan, a strategy to help break down the barriers between different kinds of British music, and offering musical, educational and dramatic facilities. In recent times, John has also lent his name and energies to developing the interests of the jazz community in the UK, a fraternity which always needs his kind of enlightened and genuine involvement. Few people have put so much back into British music as John Dankworth.

To start our Redial look at the Dankworth library of classics, though, here's our choice of some of his most memorable moments as performer, arranger and composer, with a respectful nod to a giant of our music: John Dankworth.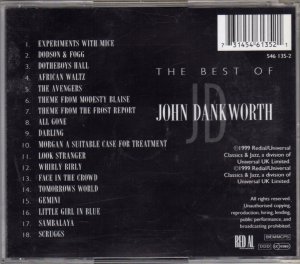 click to watch

click to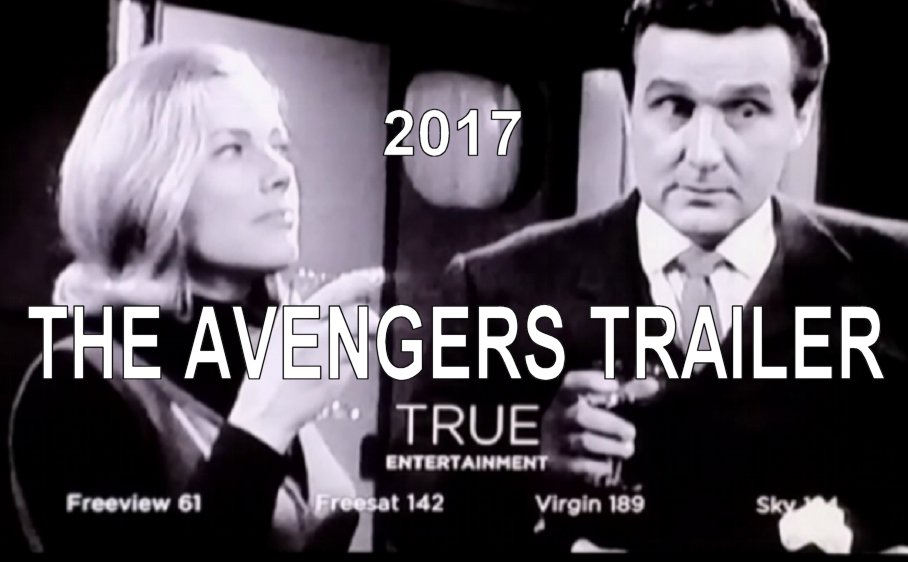 TRUE ENTERTAINMENT - 2017 TRAILER
Freeview 61
Freesat 142
Virgin 189
Sky 184
THE AVENGERS TV RE-RUN
All 161 episodes
Weeknights at 8pm
(click picture to watch trailer)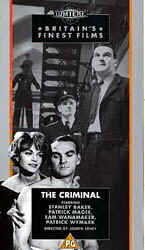 The John Dankworth big band line up at its largest included Dudley Moore on piano and George Tyndale on baritone sax. Performances at London's Marquee Club and the Beaulieu Jazz Festival are shown. Popular tunes during this time were African Waltz, Moaning & The Avengers Theme.

Merton Park Studios period film "The Criminal" starring Stanley Baker featured the John Dankworth Band.

The then Anglia TV produced the "Survival" wildlife series which also featured the band with original compositions.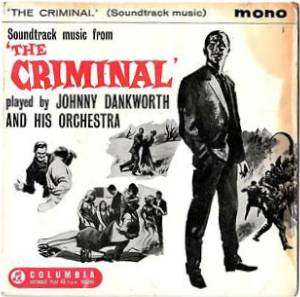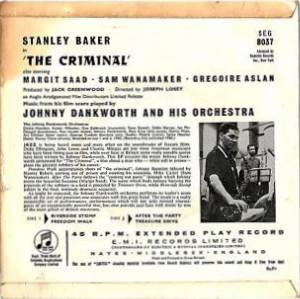 AFTER THE PARTY
FREEDOM WALK
RIVERSIDE STOMP
TREASURE DRIVE

click on record to play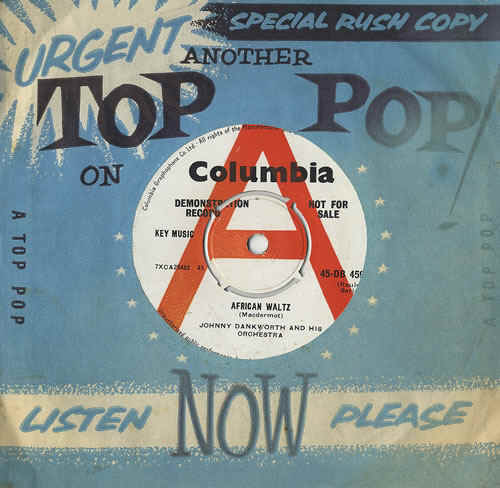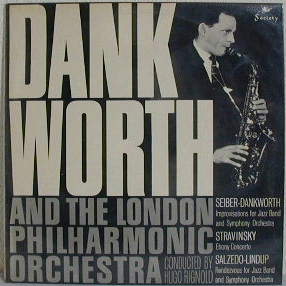 A Collaboration with John Dankworth and the London Philharmonic Orchestra
(SOCIETY SOC 963)

Improvisations // Matyas Seiber-John Dankworth <S?@01'58"> 20"
Ebony Concerto // Igor Stravinsky <E>
Rendezvous // Leonard Salzedo-David Lindup <-?>

John Dankworth (as), Peter King (as), Art Ellefson (ts), Danny Moss (ts), George Tyndale (bs), Ronnie Ross (bs), Gervaise de Peyer (cl), Dickie Hawdon (tp), Kenny Wheeler (tp), Derrick Abbot (tp), Gus Galbraith (tp), Jimmy Deuchar (tp), Denis Wilson (horn), Tony Russell (tb), Ian McDougall (tb), Eddie Harvey (tb), Ronnie Snyder (tuba), Ray Dempsey (g), Dudley Moore (p), Michael Jefferies (harp), Spike Heatley (b), Kenny Clare (dr)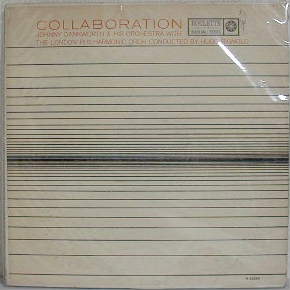 In 1960, Dankworth's recording of Galt MacDermot's "African Waltz" reached the UK Singles Chart, peaked at No. 9, and remained in the chart for 21 weeks. American altoist Cannonball Adderley sought and received Dankworth's permission to record the arrangement and had a minor hit in the US as a result. The piece was also covered by many other groups.
Dankworth's friendship with trumpeter Clark Terry led to Terry's being a featured soloist on Dankworth's 1964 album The Zodiac Variations, together with Bob Brookmeyer, Zoot Sims, Phil Woods, Lucky Thompson and other guests. Other Dankworth recordings during this period featured many other respected jazz names. Some were full-time members of the Dankworth band at one time or another, like Tony Coe, Mike Gibbs, Peter King, Dudley Moore, George Tyndale, Daryl Runswick, John Taylor and Kenny Wheeler, while others such as Dave Holland, John McLaughlin, Tubby Hayes and Dick Morrissey were occasional participants. Dankworth started a second career as a composer of film and television scores (often credited as "Johnny Dankworth"). Among his best-known credits are the original themes for two famous British TV programmes, The Avengers (used from 1960 to 1964) and Tomorrow's World. He also wrote the scores for the 1965 film Darling and the 1966 films Modesty Blaise and Morgan: A Suitable Case for Treatment. He appeared in the film All Night Long alongside Dave Brubeck and Charles Mingus - playing himself.
During this active period of recording, the Dankworth band nevertheless found time for frequent live appearances and radio shows, including tours in Britain and Europe with Nat King Cole, Sarah Vaughan and Gerry Mulligan, and concerts and radio performances with Lionel Hampton and Ella Fitzgerald.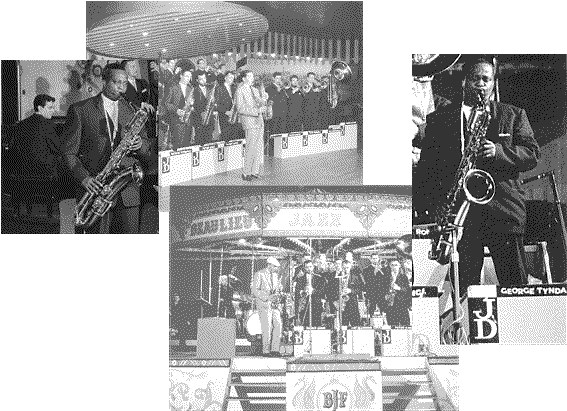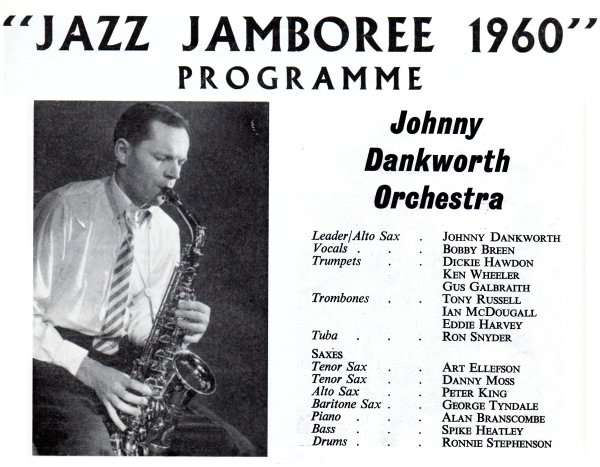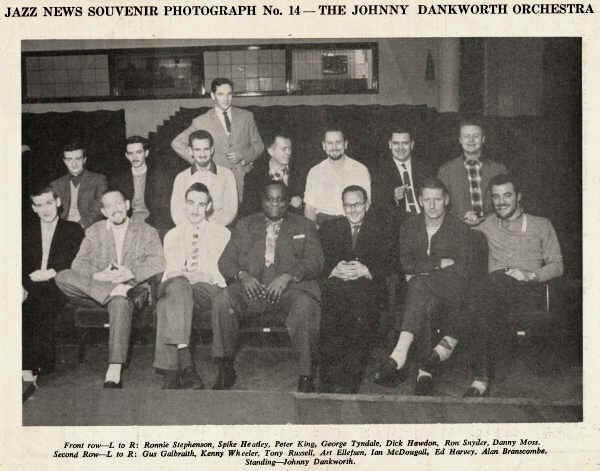 courtesy SIMON SPILLETT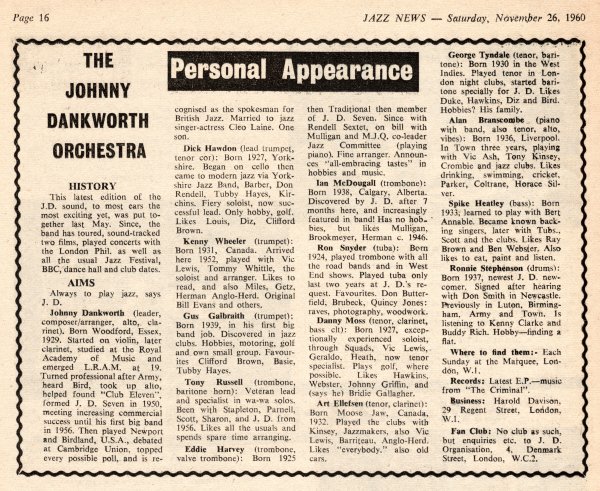 courtesy SIMON SPILLETT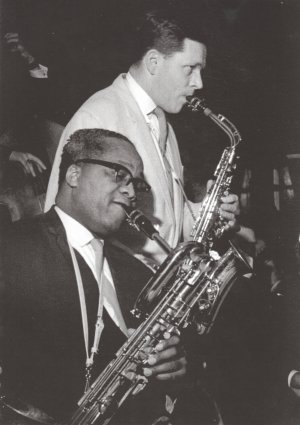 Johnny Dankworth Orchestra - July 1st and 5th, 1960
(Roulette/Columbia SEG8037*)


Dickie Hawdon, Kenny Wheeler, Gus Galbraith (tp), Tony Russell, Eddie Harvey, Ian McDougall (tb), Ron Snyder (tu), Johnny Dankworth, Peter King (as), Danny Moss, Art Ellefsen (ts), George Tyndale (bs), Dudley Moore (p), Spike Heatley (b), Kenny Clare (d).
Moanin'/Riverside Stomp*/Freedom Walk*/After The Party*/Treasure Drive*.
A fifth title was recorded about this time - African Waltz.

For this Johnny Scott (fl,picc) was added, Ronnie Stephenson replaced Kenny Clare and Ron Snyder was out.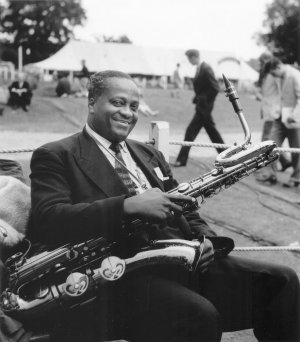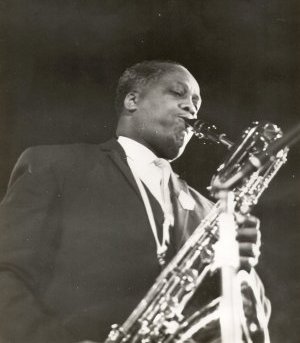 Val Wilmer photographs George Tyndale
(Beaulieu Jazz Festival 1960)

Click on pictures to display larger images

(pictures courtesy of Val Wilmer)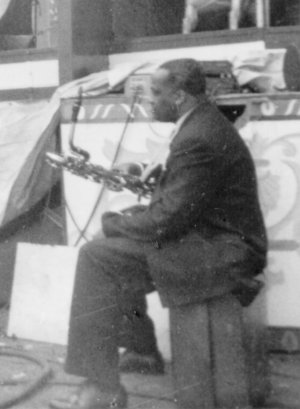 LINKS:


(click image to download)