William Tyndale (c.1490/4-1536)

Tyndale was a scholar and theologian whose translation of the New Testament was the first to be printed in English. His simple, clear style was a model for subsequent English translations of the bible.

William Tyndale was born in Gloucestershire and educated at Oxford and Cambridge where he became a strong supporter of church reform. He was ordained as a priest in around 1521 and returned to Gloucestershire to serve as a chaplain to a member of the local gentry.

Tyndale's controversial opinions attracted the attention of the church authorities, so in 1523 he moved to London. His intention was to translate the New Testament into English, which was strictly forbidden. He believed passionately that people should be able to read the bible in their own language, but such translations were by this time closely associated with Martin Luther and other Protestant religious reformers.

In 1524, Tyndale left England for Germany where he hoped to continue his translation work in greater safety. He visited Luther at Wittenberg. Printing of his English New Testament began in 1525 and by the following year copies were being smuggled into England. The work was denounced by the Roman Catholic church authorities and Tyndale was accused of heresy. He went into hiding, where he began work on a translation of the Old Testament from Hebrew into English.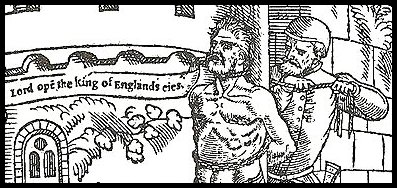 "LORD OPEN THE KING OF ENGLAND'S EYES"
In 1534, Tyndale moved to Antwerp (in modern Belgium) and began to live more openly. He was betrayed, arrested for heresy and imprisoned in Vilvoorde Castle. On 6 October 1536, he was strangled and then burned at the stake. His translation of the Old Testament remained unfinished at his death, but formed the basis of the 'King James' version of the bible.
Tyndale's legacy lives in the language he left us. Many modern day phrases and words are attributed to him. Shakespeare's use of "fair" transcribed by Tyndale as "beautiful" is an example.
Although Tyndale was executed the words in which he expressed the content of the New Testament live on. Roughly eighty percent of the King James New Testament used today is William Tyndale's work. The following phrases appear in print for the first time in Tyndale's translation:
"I will cause a boy who drives a plow to know more of the scriptures than the pope."

"Lord, open the king of England's eyes."

"My overcoat is worn out; my shirts also are worn out. And I ask to be allowed to have a lamp in the evening; it is indeed wearisome sitting alone in the dark."

"The Church is the one institution that exists for those outside it."

In his Bible translations, Tyndale coined such phrases as:
"a law unto themselves," (Romans 2)

"fight the good fight"(1 Timothy 6)

"filthy lucre" (1 Timothy 3)

"let there be light," (Genesis 1)

"my brother's keeper," (Genesis 4)

"the powers that be," (Romans 13)

"the salt of the earth," (Matthew 5)
We use these phrases because they are well formed. Their alliteration, rhyme and word repetitions say what we need to say, with the force we need, so even those who never read the Bible still use them. Tyndale's sense of rhythm and poetic proportion gives force to such classic sentences as these:
"Ask, and it shall be given you;
seek and ye shall find;
knock and it shall be opened unto you" (Matthew 7)"

"In him we live and move and have our being" (Acts 17)"

"The spirit is willing, but the flesh is weak." (Matthew 26)
Other phrases, some of which were taken from Anglo-Saxon and Hebrew, all of which he alchemised into our everyday language.
"a law unto themselves"

"a moment in time"

"an eye for an eye, a tooth for a tooth"

"ask and it shall be given you"

"broken-hearted"

"eat drink and be merry"

"fall flat on his face"

"fashion not yourselves to the world"

"fleshpots"

"flowing with milk and honey"

"go the extra mile"

"it came to pass"

"judge not that ye be not judged"

"knock and it shall be opened unto you"

"let there be light"

"lick the dust"

"live, move and have our being"

"pour out one's heart"

"seek and ye shall find"

"the land of the living"

"the apple of his eye"

"the parting of the ways"

"the signs of the times"

"the word of God which liveth and lasteth forever"

"the salt of the earth"
Besides phrases and sentences, Tyndale coined or revived many words that are still in use. He constructed the term "Jehovah" from an odd Hebrew construction in the Old Testament, and we frequently hear the word spoken on our doorsteps. It was he who named the Jewish holiday Pesah "Passover". We use his word when we say that someone is being made a "scapegoat". Tyndale was a pioneer in the use of ordinary language for poetic aphorism. His phrases are as widely used as Shakespeare's "the milk of human kindness," or "to be or not to be," and it well may be that he made Shakespeare possible?